CF-18 Is a Canadian jet that tracks Santa like the many other jets. It tracks him as Santa goes to his many stops around the globe. 
"(F-16s, F-15s, F-22s and CF-18s) have intercepted Santa many, many times. When the jets intercepts Santa, they tip their wings to say, "Hello Santa! – NORAD is tracking you again this year!" Santa always waves. He loves to see the pilots!" - NORAD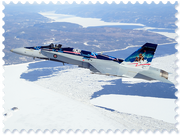 Ad blocker interference detected!
Wikia is a free-to-use site that makes money from advertising. We have a modified experience for viewers using ad blockers

Wikia is not accessible if you've made further modifications. Remove the custom ad blocker rule(s) and the page will load as expected.