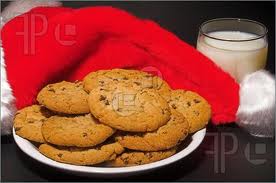 Milk and Cookies are Santa's energy source on Christmas night. Kids often put milk and cookies out for Santa to eat while he puts the kids' gifts around the Christmas tree. This might also be the reason for Santa's huge belly! Some say kids leave Santa Claus cookies and milk to bribe him if they were naughty, and to thank him if they were nice. Some also leave carrots and hay for the reindeers. It is still unknown when this tradition began but there has been some theories, But one thing is for sure that sometimes eats all the cookies. 
Ad blocker interference detected!
Wikia is a free-to-use site that makes money from advertising. We have a modified experience for viewers using ad blockers

Wikia is not accessible if you've made further modifications. Remove the custom ad blocker rule(s) and the page will load as expected.