The first toy was invented by an elf! It was a toy truck with stripes. He showed
Santa
and that's how Christmas begun! That particular elf, Daffy , had many family members that were hidden from the society because of their embarrassing height. So they started this holiday so the
elves
could be appreciated.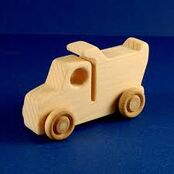 The truck can be found in China. It has not been found and other NORAD Santa trackers are searching for the truck.
Today, toy trucks are some of the best toys! We have to thank Daffy for Christmas!
Ad blocker interference detected!
Wikia is a free-to-use site that makes money from advertising. We have a modified experience for viewers using ad blockers

Wikia is not accessible if you've made further modifications. Remove the custom ad blocker rule(s) and the page will load as expected.